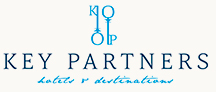 Founded in 2010, Key Partners was created aiming to achieve a long-lasting connection between a selection of elite luxury hotels and the Brazilian market, and through that relationship, increase our Clients sales and profit, as well as strengthen their brand image.

Focusing on a personalized business planning and identification of new business opportunities, our work is an extension of the hotel sales and marketing team to secure the best results from the different segments.

Key Partners is based in São Paulo and Rio de Janeiro, and it operates in all of the leading tourist markets in Brazil.